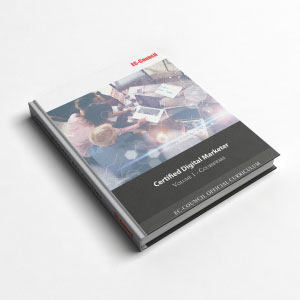 CDM e-Courseware
Availability: In Stock
Product Description
The Digital Marketing course by IIB is a Training and Certification program aimed at professionals looking to evolve through the executive ranks of Data-Driven Corporate Marketing. The program is for students interested in planning, executing and measuring digital strategies to achieve accelerated performance of marketing efforts. The overall tone of the training helps students make use of both creative and technical skills or as known as Growth Hacking.
The Certification in Digital Marketing (C|DM) recognizes an individual's accumulated skills in developing and executing an integrated digital marketing strategy in alignment with organizational goals. To rise to the role of the C|DM, professionals need to demonstrate strong technical knowledge and experience. Understanding that digital marketing decisions have a direct impact on organization's growth, revenue, profitability and agility is imperative for a C|DM. For more details, please visit https://www.iibcouncil.org/digital-marketing.html
This is the IIB Council official curriculum of its Certified Digital Marketer (CDM) program.
This product consists of:
Digital Courseware
Note: Exam voucher is not included. Students must apply for eligibility if they wish to purchase the exam voucher independently. You may apply for CDM eligibility at info@iibcouncil.org
This is a special discount price applicable only for pre-orders during period (1st of July till 31st of July 2017). 
Effective August 1st onwards the price of this product will be $600
Order processing time: The courseware for this pre-order will only be available on Aug 1st 2017.